Priorities for development in North Karelia 2022–2025
Development themes in North Karelia's regional strategic programme (POKAT 2025)
The regional strategic programme (POKAT 2025) contains the goals of development based on the region's potential, needs and special features, as well as a description of the key measures for achieving these goals. The themes of the POKAT 2025 regional strategic programme were derived from the national decision on regional development and the North Karelia 2040 strategy:
- Accessibility – a functioning transport system
- Growing competitiveness and the region's strengths
- Skilled life – education and competence
- Wellbeing – healthy, thriving and inclusive residents
- Climate resilience and biodiversity
Digitalisation, internationalisation and sustainable growth are cross-cutting elements in all development activities.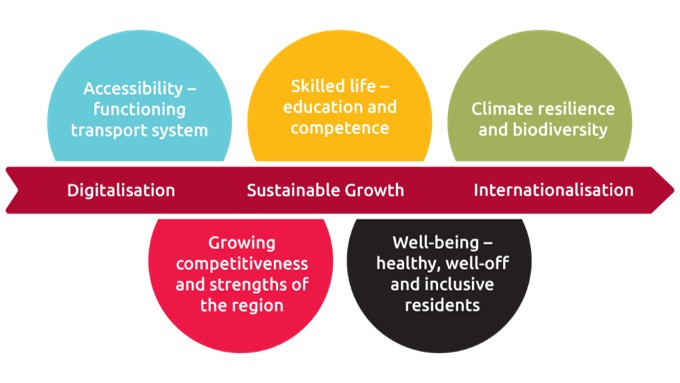 Sustainable, smart and international North Karelia – smart specialisation strategy of North Karelia
The smart specialisation strategy is part of North Karelia's regional strategic programme (POKAT 2025). In accordance with the requirements for the 2021–2027 programming period, the choices for smart specialisation have been made based on a broad thematic and phenomenon-based approach instead of a business-oriented sectoral one. The growth and internationalisation of companies continue to be at the core of development.
Change is the predominant feature in the current operating environment, and to prepare for it, we need broad-based development that understands the regions' characteristics and areas of strength. The priorities of North Karelia's smart specialisation strategy are:
- Renewable industry and emerging technologies
- Clean solutions and a green transition
- Innovative and sustainably produced services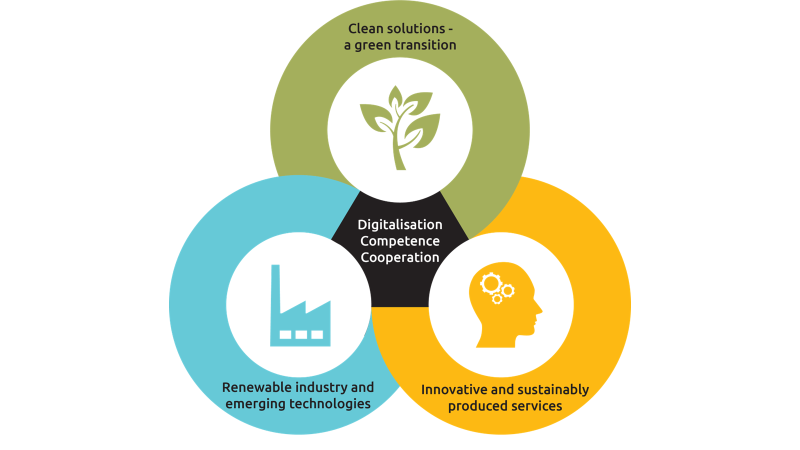 For more information please visit the website of the Regional Council of North Karelia